The Malaysian smartwatch market had seen the Realme Watch 3 last month and now it seems that Realme is ready to launch a pro version of the Realme Watch 2 globally on May 20 along with other bunch of wearables like the Realme Pocket Bluetooth speaker, Realme Wireless Buds 2 and the Realme Wireless Buds 2 Neo.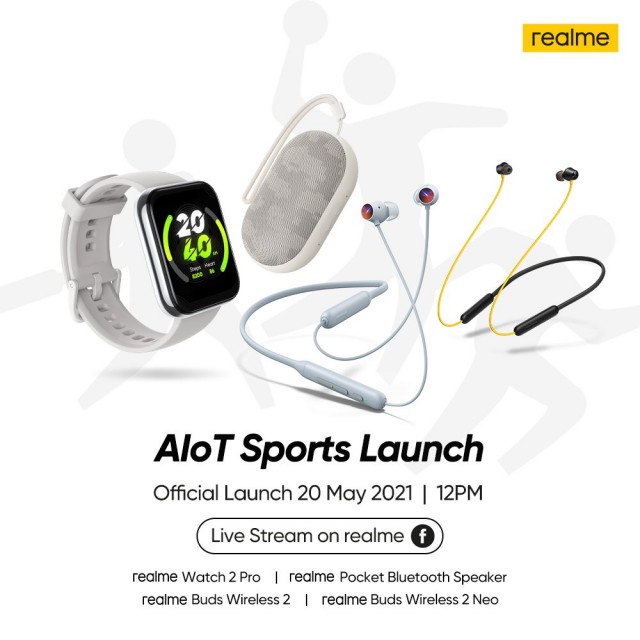 The Realme Watch 2 Pro is expected to have a square design just like the Realme Watch 2. Also, the leaked FCC certificates indicate that the smartwatch might pack a 390mAh battery which is an upgrade from the no-pro's 315mAh battery capacity.
Not much is known for now about the Realme Buds Wireless, except the fact that it will have the around-the-neck design just like that on the 2019's Realme Buds Wireless.
Realme Buds Wireless 2 Neo
The Realme Buds Wireless 2 Neo are already official in Sri Lanka.
Realme Buds Wireless 2 Neo Specifications
11.2mm drivers
150mAh battery (17 hours of playback)
Around the neck design
Bluetooth 5.0
IPX4 water-repellant coating
Realme Pocket Bluetooth Speaker
The last product set to launch on Thursday is the Realme Pocket Bluetooth speaker. The teaser image reveals that it features a pill shape unlike the round stature of the Realme Cobble Bluetooth speaker. We can see the same lanyard attachment for easy carrying. The rest of the specs are still unknown.